The first rule in marketing is: to reach an audience with money.
The second is like the first, with a little twist: to reach an audience that believes in 'investing money to make money'.
If you are reaching people who are broke and believe that everything online must be free… it's going to be tough.
Okay, I know I'm going to burst some people's bubble here. Look at it this way, who is that irredeemably so gullible as to spend money on someone who does not have any; or is not willing to invest their own cash?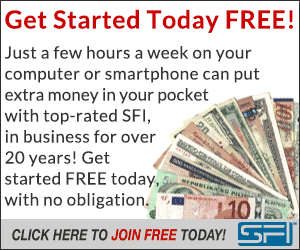 Someone once said that there is no such thing as free lunch! How true! There is always a price to pay for anything worthy of note.
Don't believe those offers that trumpet 'no cost', 'you won't even lift a finger', or, the most audacious, 'make thousands of dollars without investing a single cent'.
Hmmm! Earn thousands of dollars without investing a coin! Really… And you believe that kind of stuff?
Free Online Advertising
One of the reasons given by proponents of no financial investment into an opportunity is that there are a lot of free places on the internet to advertise without spending. They give examples of free classifieds, safe lists, etc. The problem is that these free classified websites and safe lists attract other people who have no money to invest or are not willing to invest.
So you end up having people who are broke placing ads where other people who are equally broke place their ads. In any case, if your ad is not on the first page, chances are no one else will see them, except you of course. But if you are lucky for your ad to stay on the first page for a little while, a few other people who are equally broke may get to see it! Hmmm …. talk of a zero sum game!
Serious About Making Money Online
People who are serious about making money understand the importance of targeting people with disposable incomes online, or people who can influence others to make financial decisions. When your ads are targeted to these groups of people, you are more likely to make a sale.
People with funds to spend do not go to free classified ads looking for your products and offers; your product or offer should go to them. And for this to happen you have to make an investment. For instance, to grab a share of people looking for a certain product or offer on the internet, you have to talk with search engines such as Google and other advertising networks. Of course we all know that google does not specialize in giving away free lunches. You will have to open a Google AdWords account and fund it.
It is actually reported that 60% of google traffic goes to paid ads; while the rest of broke humanity have to scramble for the remaining 40% piece of the pie; and I understand that this slice is shrinking fast as Adwords veraciously munch on it!
FaceBook … Perhaps?
Well, if you are looking for free traffic, facebook would be your best bet. Here you can create and join groups and pages patronized by people with interests similar to your product or offer. But even this window is closing fast as facebook meticulously and systematically stifle the 'social' aspect of its network in favor of the more profitable advertising revenue that is coming through boosted posts, promoted pages, and boosted website links.
The very attraction of social networking has been the ability for people to freely express themselves. But as the 'free' spaces shrink, and as advertising hawks continue to descend on social networks, there is a likelihood in the not-too-distant future that social networks will start to lose their appeal!
A Case for making Money Online without Spending a Dime
It is however possible, and slightly practical, to make money online at a fraction of the cost. If you have the time to invest a few hours every week posting ads to free classified sites and safe lists; and posting links on facebook, twitter and other social networks that are currently free, then you can, without doubt, make loads of cash online.
But you still have to spend some money on internet access; and you need unlimited internet access to make even the slightest of dents on internet marketing.

Good news! There is one online opportunity you can be sure to make money with online with little or zero investments. This is a tried and tested business that has been online since 1998.